10 Small Kitchen Furniture Ideas
Not every kitchen has room for an island or diner, but that doesn't mean smaller kitchens don't have room for smart, exciting furniture. Of course, with limited space, you'll have to think carefully about how you use each piece. But with clever storage and compact design, small doesn't have to mean minimalist. Here, we've collected ten great small kitchen furniture ideas you can bring into the heart of your home.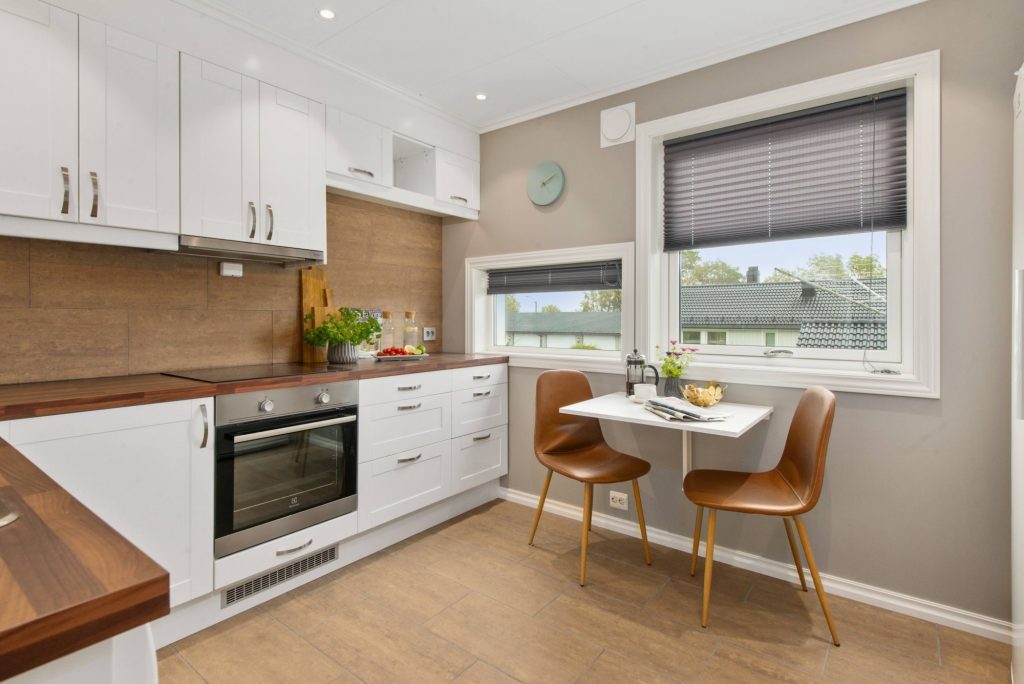 Bring Big Ideas into your Small Kitchen Plans
In a smaller kitchen, open shelves can be a better choice than closed cabinets. Open shelves create a sense of airy open space, especially great for a galley kitchen.
To get the most out of your open shelves, consider stocking them with bottles, baskets and jars to keep items together.
To cut down on cabinets altogether, consider creating places to hang up your pots, pans and larger utensils. This is a great way to put high up areas of your kitchen to good use.
However, if you prefer large cabinets, consider choosing cabinets with glass doors. Being able to see into your cabinets will create a sense of more space.
Extractor hoods are often large and bulky, and sometimes unnecessary. So consider using the space above the oven for more storage, or leave it clear to create a sense of open, airy space.
If you have a washing machine in the kitchen, it's worth finding it a new home somewhere else in the house. You can use the remaining space for extra cupboards.
Speaking of cupboards, ensure your corner cupboard space is easy to access with smart pull-out drawers or double doors. Bespoke designers can create cupboards that work with your room's unique shape.
If you don't have room in the kitchen for a dishwasher, go big with your sink. A sink with two bowls gives you a place to put your dirty dishes without letting them get in the way.
Remember, small doesn't have to mean minimalist. Exciting tiled patterns on the floor, or a bold splashback are great ways to bring bold decoration into your kitchen without taking up space.
Finally, when it comes to paint, using soft and calming shades can help keep your kitchen from feeling chaotic. Natural or neutral colours will keep the space feeling tidy and relaxing.
Inspiring Small Kitchen Furniture Ideas from Jane Cheel
To get the most out of inspiring small kitchen furniture ideas you need to work with kitchen designers who want to know about your needs. Handmade, bespoke design ensures that every piece of furniture fits perfectly with your home and lifestyle. At Jane Cheel Furniture, our bespoke design process puts you at the centre of the picture.
Working with your kitchen dimension and your own suggestions, we'll create functional furniture that wastes no space. To begin your kitchen design journey, reach out to us online or by phone today.